Fake casual dating sites have been around since time immemorial. What many people don't know though is that casual dating scams are as prevalent in legitimate online dating sites. So we weren't surprised when the Ashley Madison data breach revealed majority of the female profiles on the dating site to be fake! Yup, thousands of men on the dating site were trying to have an affair with a woman, or multiple women who never existed. And that's why we're penning down this guide to help the men and women out there in avoiding fake sites and profiles with some casual encounter tips that will surely up your online dating game. You can also read What do women generally want in a casual sex partner? if you want to konw exactly waht you're getting into.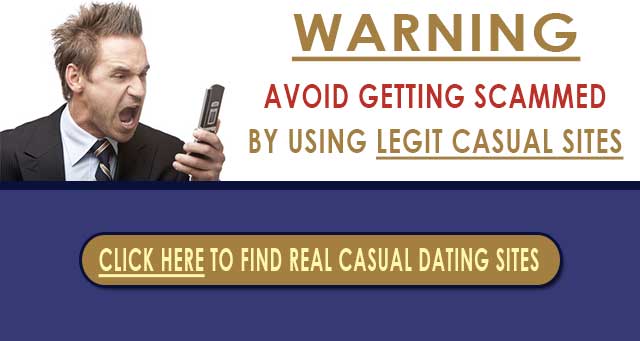 Free Sites Mean More Casual Dating Scams
It's true. Most online dating sites that don't charge their users are riddled with profiles of fake women and men, some of which may even be 'verified'. On some sites, all it takes is email verification to make the profile appear authentic. Also, you are bound to get more messages from people who are not even in the same city as you. Imagine waking up to seductive talk from someone who lives in Los Angeles whereas you're currently in New York. So the likelihood of getting messages from fake profiles and people is high in completely free dating sites as compared to those that offer both free and paid memberships. But the top casual dating sites don't just have free and paid memberships, with paid memberships offering more options and ways to get in touch with other men and women. They also offer one feature that, in our opinion, is criminally underused in online dating – better security!
Avoid Online Dating Sites With No Security Measures
Security remains a pressing concern in online dating, and is an evident factor in deciding whether an online dating site is good or not. If a site is offering different payment methods, that doesn't always mean it's also fortifying security. Also, if a site allows a user to get their profile verified by linking their credit card or other banking information, people can still create fake profiles. For instance, on some sites, users may provide credit card details of their friends for authenticity. So basically, when you log in to that site, you may actually believe that those fake women profiles are real and you're getting lucky tonight. So the next time you want to sign up for an online dating site, make sure that it has 128-bit encryption, i.e. is an https website. While this may not ensure that you'll run into real men and women every time, it does mean that your personal information and banking details are safe from prying eyes.
Spotting the Fake Profiles and Scammers
Now this is the hard part, but after a few weeks, you will get the knack of it. The first thing that can help you spot a fake profile from a real one is reading the profile. Typically, scammers won't break a lot of sweat over filling the sections, using correct grammar, and making the profile look human. That's because if someone is serious about online dating, the least they would do is provide enough information about themselves, their interests, and what they're looking for. So if you spot a fake, don't hesitate and report it. Now when you get in contact with men and women, start a conversation, and when they ask for money or ask you to sign up to a different place, simply steer away. You don't want to end up paying someone who's never going to meet you, and you wouldn't want your computer, laptop, or smartphone riddled with spam either. The profile picture is another giveaway; suggestive pictures or pictures that seem too familiar are usually present in fake profiles. Another thing worth mentioning is that escorts are also found on online dating sites. So if you're looking for women to date in New York, chances are you might get responses or get approached by escorts. So now you gotta pay to play when all you wanted was to play for the love of the game.
Some Casual Encounter Tips to Live By
Now that you're familiar with the scams and the cheats found in the online dating scene, these casual encounter tips will help you seal the deal:
* Always approach people after reading their profile. It is best to know what interests and preferences the other person has before breaking the ice.
* Make your intentions clear. If you're looking to go out on a date, say so. If you're looking to have sex, say so. If you want someone to join in on the fun i.e. a threesome or an orgy, say so!
* Using a paid membership is great if you're using a reputable online dating site. Take note that even fake casual dating sites will also have paid memberships.
* And lastly, there's no need to be courteous and polite all the time. Some men and women are looking for the bad boys and girls so make sure you show them your naughty and dirty side.
You can try out these 21 Best Pickup Lines to Use Online